Tom Tom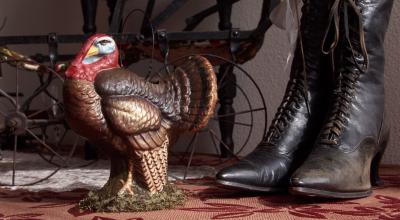 Details
A wonderful vintage style handcrafted papier mache candy container. This Turkey stands an
impressive 7" tall. He is made from a rare mid 19th century 3 part chocolate mould.
Piecing the 3 parts together is incredibly difficult and takes many, many hours.
Once glued and sanded, he is painted with meticulous detail.
The final touch is his charming wire handle.
His feathers glow with warm irridescence, and speak of crisp fall days with oak
leaves and acorns crunching underfoot.
Certainly one of my most challenging, yet most rewarding pieces yet.
A wonderful addition to any Thanksgiving table or collection.
Add a comment