Papier Mache Moulds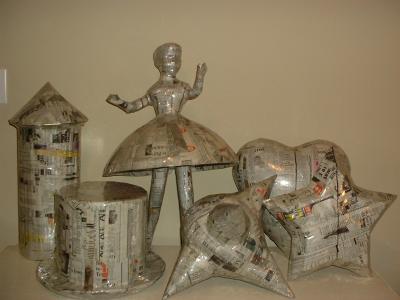 Details
These are some of the moulds created to make some of my pinatas!
An armature is covered in several layers of papier mache. When completely dry, plastic packing tape is used to cover the entire piece.
Armatures are made from cardboard, platters,wire, balloons, party hats, punch balls, snack trays, styrofoam, scrunched paper, lots of tape and whatever else I can find! They are complete papier mache creations in themselves.

INSPIRATIONS:
http//www.animalhead.com
"How They're Made" by Marikay MacKenna
Wonderful site with papier mache covered in material and fake fur!

http//www.papiermache.co.uk
Tutorials Section
"Pinatas" by Rozani Navas-Smith
Right here in the Tutorials!
Add a comment