"Florista con Huacal" ("Florist with huacal")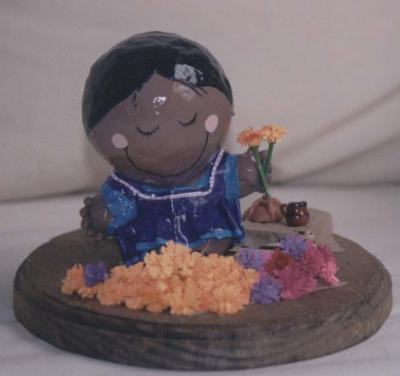 Details
This figure represents a florist, that you can tipically see on markets, or outside of churches in special days of religious celebrations. In this case she is selling "cempazuchitl flowers" (mary gold flowers) using in mexico for the celebration of the day of the death.

She also has a "pan de muerto" (special sweet bread made for this day) besides her, and a cup of hot chocolate.
(very delicius here in Mexico)

I hope you like make gallery, and if you have any comment about my work, please let me know at:

originalveronicaperez@hotmail.com

You can buy some of my work at:

ETSY!!
http://www.etsy.com/people/OriginalVeroPerez?ref=si_pr

FRIDA KAHLO'S MUSEUM STORE
Calle Londres 247
Col. Del Carmen Coyoacán
Mexico City

Visiting hours
Tuesday through Sunday, 10:00 a.m. 6:00 p.m.

http://www.museofridakahlo.org.mx/

GALART
(The Tides)
Ixtapa Zihuatanejo, Mexico
http://www.galart.net/galart/welcome_to_galart.html


The "huacal" is a kind of box, that people used to transport mostly vegetable and fruits.
Add a comment