Peace Santa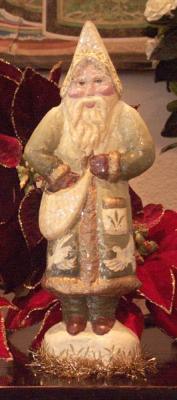 Details
As with all my artwork, this Santa is made with paper mache, using an antique chocolate mold. His robe is decorated with doves holding an olive branch. His cap and base with a garland of olive leaves.

I have many variations of this Santa planned, which I will begin creating in July. Some will be tradtional, some a bit more fun. Look for many more Santas from me as well, I plan to aquire many more molds in the next 5 months.

Copyright Kitty Forseth, Sweet Invocations. All rights reserved.
Add a comment