PapierMachistas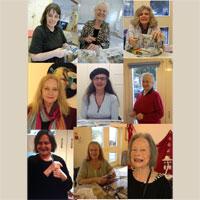 Welcome to PapierMachistas's gallery! Simply click on the item that you are interested in below to see an enlarged picture and information.
Location: United Kingdom
E-mail:
Introduction
The PapierMachistas are a group of artists who were introduced to the Mexican tradition of making papier-mâché figures for the Day of the Dead festivals by artist Marcella Montoya-Turnill. She had been taught the traditional techniques by the Linares family, famous for their fantastical figures, the alebrijes.

That was our starting point. We've all found different ways to explore what can be done with these simple materials and imagination. We are based in west London and occasionally have local exhibitions.
My gallery